Simply put:

when you take control of rising energy costs you can minimise grid dependence for your Group.
You're in good company: 
Over 1,000 businesses across multiple industries in Australia have entrusted us to help them manage their energy
Hospitality
Rockpool Dining Group
Merivale
Seagrass Boutique Hospitality Group
JDA Hotels
Harris & Narvo Hotels
Royal Hotel Group
Surfside Hotel Group
HAPS Hotels Pty Ltd
Hunter Group Holdings
Pelathon Management Group
Eastern Hotel Group
Aust. Leisure Pty Ltd
Whitehouse Properties Pty Ltd
Icebergs
The Cellar Group
Bayview Hotels
Hilrok Hotel Group
Real Estate & Construction
FAL Construction Group
Blackwall Limited
Gibbens Group
Manufacturing
TLE Electrical
Hanseatic Fine Foods
Finance & Insurance
Employers Mutual Ltd
Food & Beverage
D'Aquino Group of Companies
The Good Beer Co.
Agriculture
Brown Brothers
Horse Studs
Norris Ma
Regional Financial Controller (Australia and New Zealand)
Bayview International Hotels and Resorts
"We were recently facing a huge increase in our electricity costs due to market increases. Leading Edge Energy tendered our electricity, providing us with a set of quotes.
They then noticed a market decrease and requested updated pricing. After some negotiation with the retailer, they managed to save us $33,000 from the initial offer. They also procured our natural gas which resulted in a $40,000 saving per annum.
Leading Edge Energy are also very interested in reducing our consumption through solar & energy efficient technologies and are regularly advising us on energy companies to engage, and grants that are available. They truly offer a holistic approach of energy services."
At Leading Edge Energy, we do things differently to help you achieve that. We are an integrated and holistic energy management consultancy powered by the latest technology to offer market-leading energy solutions for your business.
We simplify energy for you
Controlling energy costs is complex. Rates are driven by a range of variables and there are many competing service providers demanding attention.
We can make it easy for you. As your single point of contact, we can advise you on energy procurement, energy efficiency, solar, monitoring and more.
We are multisite specialists
Efficiently managing the energy of multiple entities or sites in a volatile market takes experience.
Our proprietary technology-driven and automated procurement platform ensures we have the firepower to handle large volumes of sites and tenders.
We deliver service excellence for less
To achieve our reasonable commission rates, we invested in technology to escape overhead costs.
This approach enables us to offer an expert service
with low brokerage commission and metering fees.
We invest in your success
Our everyday focus is to reach your energy goals.
With our commitment-free service and no upfront fees, we are only successful if you are.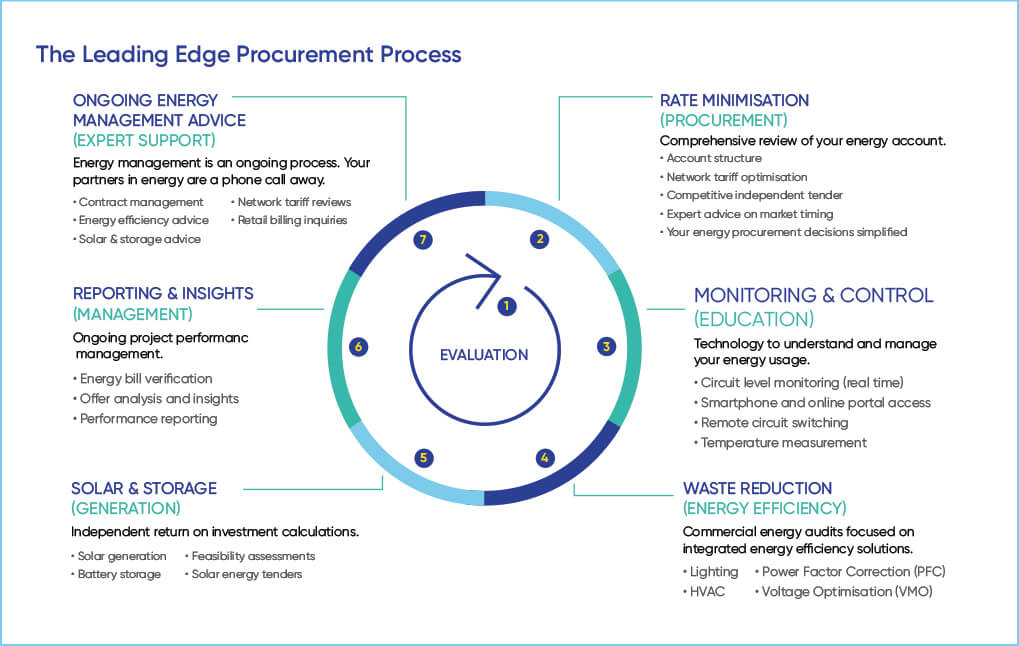 © 2019 Leading Edge Energy | All Rights Reserved